About us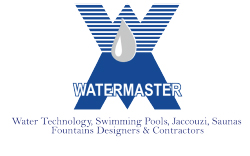 Watermaster, a subsidiary of Estithmar Holding, is a 17-year-old, market-leading company that specializes in waterrelated projects encompassing Wellness & Pools, water features, and Water Management. With More than 6000 Water Related Element completed within the state of Qatar we have the inhouse capabilities and resources to undertake and deliver turnkey projects from A to Z in the 3 interrelated fields in the role of a complex solution provider.
Watermaster excels at handling of all water-related projects by adopting a Design - Develop – Execute & Maintain approach. As a result, the highest – class service is provided through a precisely planned process in a monitored and controlled environment, so we meet deadlines, client's budget, and global quality standards. We believe that the path to top quality is via perfectionism. So far, it has helped us realize the most demanding projects.
Our Approach
We have a wide network of partners which enables us to use the latest technologies and globally recognized design solutions. Partnering with global suppliers not only allows us to be up to date with the leading trends and materials, but it also guarantees a world-class design that will remain attractive over time. Watermaster acts as a platform for leveraging international experience with a local, customized flavor, in accordance with culture and functionality.
we believe that synergy with partners is what leads to business excellence. our wide network of international suppliers enables us to apply the latest technologies with the support of world-class experts.